HOME

>
Message from the Dean
Message from the Dean
Let's explore the "Forest of Knowledge" together!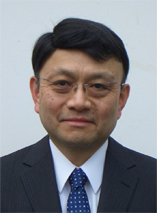 Gifu University's Faculty of Regional Studies was established in 1996, the first in Japan bearing the name "regional." To find and solve the problems of local communities and human culture with a regional theme, we educate and conduct research cross-sectionally (among both the arts and the sciences) and academically in various specialized areas of the humanities, social sciences, and natural sciences. We aim to develop human resources who have profound insight and good judgement to contribute to a community. Our educational and research activities in cooperation with local communities have created high expectations in society, playing a key role in regional revitalization and development.
For that purpose, we provide comprehensive curricula enabling students to learn broadly from various fields, while enhancing expertise in a particular field. The faculty consists of two departments: regional policy and regional culture. During the first semester of your sophomore year, you will decide the department to which you belong by forming your own learning plan based on the department's objectives and class subjects offered. As guidelines, five courses are presented, including: industry and town development, local governance policy, environmental policy, life and society, and, humanity and culture. In order to broaden your expertise, you will select class subjects mainly from one of these five courses, together with other subjects ("horizontal learning"). Working on long-term coursework including specialized seminars over five semesters (from the second semester of sophomore year to the second semester of senior year), and a graduation thesis during the second semester of senior year, students enhance their expertise through the in-depth study of a specific field ("vertical learning"). Before that, you will learn basics during the first-year seminar (the first semester of freshman year) and the basic seminar (from the second semester of freshman year to the first semester of sophomore year) in order to be prepared for your specialized field of study. In addition, it is possible to gain much experience through practical education, for example, "Introduction to Regional Studies" as introductory education (first semester of freshman year), "Exercise of Social Activities" as experiential learning (first semester of freshman year), and "Practicum of Regional Studies" as fieldwork including investigations, reporting, presentations, etc. (first semester of junior year). Along with these basic subjects and practical classes, by means of our "coordinate system of learning combining the vertical axis and horizontal axis," students can learn various fields broadly and a specific field in depth. Therefore, if you seriously work on your curriculum, you will certainly acquire the ability to think multi-dimensionally, the initiative to take action, and communication skills, all based on a plethora of knowledge. Furthermore, we offer an "International Study Program" that allows students to study abroad for a year (from the second semester of sophomore year until the first semester of junior year), and still be able to graduate in four years.
After entering the university, we suggest that you sometimes visualize yourself four years into the future, and a few years beyond that as you advance each grade level. What will you be doing after graduating the university, and where will you be doing it? What do you want to be doing then? Once you have entered the workplaces of society, often you will be pressed for time. However, as a university student, you will have plenty of time that may pass slowly and can be used freely. In those cases, we tend to forget that time is limited, and instead spend it idly. We live only a finite amount of time. "Now" exists only at this moment. It simply elapses and will never return. Therefore, it is important to consider how you spend your "nows" to connect the present to the future you envision.
Our faculty members work closely with students. We warmly welcome you, guide you passionately, and learn together. All we need from you is motivation. We are a group of academic professionals from a variety of academic fields, including the humanities, social sciences, and natural sciences. Please express your enthusiasm directly to our faculty for knowledge and learning, and topics in which you have a strong interest. Here we have a "FOREST (Faculty of Regional Studies) of Knowledge" where you will face yourself, discover what you want to study, and deepen your learning experience. Why not explore this "Forest of Knowledge" together with us?
HORASAWA Shin, Dean of Faculty of Regional Studies